COVID-19 SCHOOL CLOSURE UPDATES
SUNDAY, MARCH 29, 2020
Randolph Central School Corporation continues to work closely with local public health officials as we all respond to the Coronavirus (COVID-19) pandemic. Based on information available at this time, Randolph Central Schools will be closed through May 1, 2020.
eLearning begins on Monday, March 30 and will follow the schedule shown below.
The school building is closed to students, parents, and community members for cleaning.
The school office will be staffed on eLearning Days from 9:00AM-2:00PM for any questions that you may have. You may call 765-584-9171 ext. 1200.
We ask that if a visit to the building is absolutely necessary to pick up student supplies, please call ahead and arrange your visit.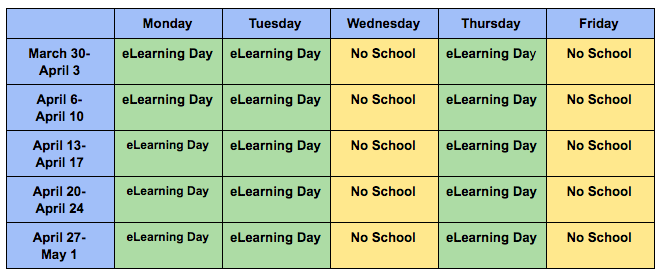 On eLearning Days, teachers will:
Post lessons in Unified Classroom by 9:00 a.m;

Be available to provide help and answer questions during office hours of 9:00AM-2:00PM.
What if our family needs a Paper/Pencil Packet?
Packets of work may be picked up in the front lobby of the school on Mondays during the break.

The school lobby will be open from 9:00AM-2:00PM.

Inside the school lobby, there are boxes marked for each teacher.

If you would prefer, we are able to mail packets to you. Please call the Willard office to make arrangements for packets to be mailed.
Due Dates
Each week's assignments (both online and paper/pencil) are due the following Monday by 2:00 p.m.

eLearning Lessons

Follow the directions your teacher gives you in Unified Classroom to turn in work.

Paper/pencil Packets

Bring finished packets back to school to the marked boxes in the lobby. Pick up your next packet while you're there.
Special Services
Mrs. Lovern will be available to provide assistance to any student in Title One services. If a student needs her assistance, you may email her at llovern@randolphcentral.us.
Mrs. Hoggatt and Mrs. Schroeder are available for all of the students on their caseload. If students need their assistance, you may reach them at ahoggatt@randolphcentral.us and/or sschroeder@randolphcentral.us.
Mrs. Chalfant will be working with her Speech/Language students to set up possible teletherapy services if requested. Her email address is achalfant@randolphcentral.us.
What if my child's Chromebook isn't working?
Call Winchester Community High School at 765-584-1401, extension 1530, to schedule a time to bring in the Chromebook. You can call on any eLearning Day between 9:00AM and 2:00PM.

At your scheduled time, bring your child's Chromebook to WCHS. Enter at door #2.
FREE Lunch & Breakfast
Randolph Central is still offering FREE Grab & Go lunch to all children age 18 and under.
The five locations include: Ridgeville STEPS, Saratoga City Building, Driver Middle School (Door #1), Baker Elementary (Front), and Willard Elementary (Front).
Lunches will be available from 11:00 AM to 1:00 PM Monday through Friday. The child must be present to receive the free meal.
As always, I invite you to call our office or reach out to your child's teacher if you have any questions at all. We'll do our best to be of help as we all work through these days together.